Katrin Korfmann
Studio Katrin Korfmann / 1800 Roeden
Joris van den Berghweg 103 - B West - 0.14
1067 HP Amsterdam, the Netherlands

Mail: Chassestraat 92 - 3,
1057 JK Amsterdam, the Netherlands
Gallery contact

All inquiries regarding artwork sales are to be addressed to our galleries listed on this website. Please contact the gallery nearest you.
Resume
Please click here to download the full resume as pdf
Legal notice
All images are protected by copyright law. No part of this website or any of its contents may be reproduced, copied, modified or adapted, without the prior written prior consent from Katrin Korfmann or Pictoright. For copyright permission please contact Pictoright: info@pictoright.nl
Colophon
Supported by: Mondriaan Fund
Design: Céline Hurka
Web-development Kay Pisarowitz
Awards & Grants & Residencies
2020-22

Royal Academy of Art The Hague, DDF Research Fellow, NL

2021

BijlmAIR, Residency by CBK Zuidoost, Bradwolff Projects and Stedelijk Museum Amsterdam, NL

2020

Mondriaan Fund, Stipend for established artists, NL

2019

Best Dutch Book Designs, NL

2018

Hartenfonds, NL

2014

Chinese European Art Center, Residency, Xiamen, CN

2013

Mondriaan Fund, basic stipend, NL

2012

Rado Star Prize, by Biel/Bienne Festival of Photography, CH

2011

Amsterdam Fund for the Arts, development grant, NL

2010

Fonds BKVB, publication grant, NL

2009

Grafisch Atelier, Residency/Grant, Amsterdam, NL

2005

Akademie der Künste, Berlin, Residency/Grant, DE [cat.]

2004

Fonds BKVB, basic stipend, NL
Vrije Ruimten Zuidas 01, Residency/Grant, NL [cat.]

2003

Prix de Rome (public art, 2nd prize), NL [cat.]

2002

Fonds BKVB, starter stipend, NL

2001

Robert Bosch Foundation, Grant, DE
Cittadellarte – Fondazione Pistoletto, Residency, Biella, IT

2000

Mama Cash Award, NL
Würth Foundation, Grant, DE

1999

Esther Kroon Award, NL
Education
| | |
| --- | --- |
| 2000/01 | Rijksakademie van Beeldende Kunsten |
| 1996-99 | Gerrit Rietveld Academie, Amsterdam (Photography) |
| 1997/98 | Assistant to Ulay (Uwe F. Laysiepen) |
| 1995/96 | Kunsthochschule Berlin Weissensee |
Exhibitions
The artist has exhibited internationally in galleries, museums, alternative art and public spaces, including Photography Museum Rotterdam, GEM Museum of Contemporary Art, The Hague (NL); Kemper Museum of Contemporary Art, Kansas; Kopeikin Gallery, Los Angeles; Aperture New York (US); Three Shadows Art Centre and CEAC, Xiamen, OFOTO, Shanghai, (CN); Azad Gallery, Tehran, (IR), Akademie der Künste, Berlin; Frankfurter Kunstverein (DE) and many more.
Commissions
Korfmann has realized numerous public art commissions, for example, for the Ministry of Finance, Rijksgebouwendienst, Schiphol Airport, University VU mc, AMC Amsterdam, Rijnstate, Ronald McDonald Centre (NL); Ford (US); Stockholm County Council (SE).
Collections
Her work is held in many private and corporate collections, such as in the U.S.: C21, Gautreaux, Fidelity, Twitter. In Germany: Würth Foundation, European Patent Office, Robert Bosch Foundation. In the Netherlands: Akzo Nobel Art Foundation, Bouwfonds Art Collection of Rabo Real Estate Group, ING Art Collection, Art Collection Ministry of Foreign Affairs, VandenBroek Foundation, Fotomuseum the Hague. In Sweden: Collection City of Umeå, Balticgruppen, Stockholm County Council.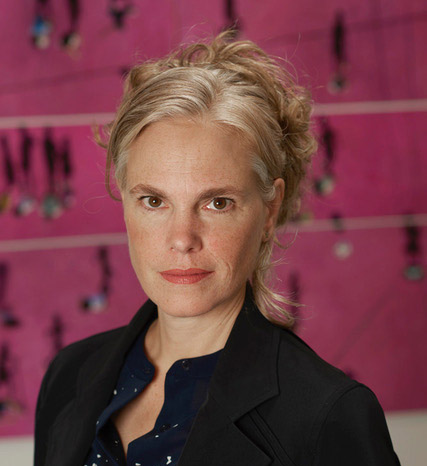 Katrin Korfmann is an artist working on the cutting edge of photography, post photography and installation art. Attracted to the spectacles of everyday life, which often occur in the public space, she captures people in metropolitan motion. A tension emerges as her work oscillates between stillness and movement, creating a fresh perspective on busy urban settings as portraits of contemporary transitions.
With a critical and playful attitude towards the world around her, and explicitly in relation to contemporary visual culture, Korfmann uses a myriad of self-photographed images to investigate their historical, social and visual context. A simultaneous sense of distance and proximity arises as she depicts realities that neither the artist's eye nor the camera could ever have grasped. Her images are both an interpretation of her experience and of collective social memory.
Katrin Korfmann grew up in Berlin, and has lived and worked in Amsterdam since 1995. She studied Photography at the Gerrit Rietveld Academie before continuing her research at the Rijksakademie, both in Amsterdam, Cittadellarte Biella in Italy, Akademie der Künste Berlin Germany, and the Chinese European Art Centre in Xiamen, China. Her work has been awarded numerous prizes, including the Prix de Rome (2nd), Mama Cash Award and the Esther Kroon Award (NL), Bieler Fototage Prize (CH) and has received various grants from international institutions such as the Robert Bosch Foundation, Würth Foundation (DE) and Mondriaan Fund (NL).
Korfmann is a senior tutor at the Royal Academy of Art, The Hague since 2010, where she currently teaches Image in the BA programme Graphic Design and Post Photography in the MA programme Non Linear Narrative. In addition to being a research fellow at KABK Research Group 2020-22, Korfmann has lectured as a guest tutor at MFA Fine Arts Otis in Los Angeles, Master Performing Public Space Fontys Tilburg, Elisava Barcelona and the University of Art Kassel and Bremen, amongst others.